Meet Dr. Rick Cutsinger
Sneezing Led Me to the Chiropractor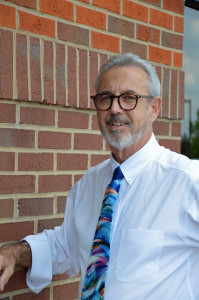 As a child, Dr. Cutsinger's red, itchy eyes, difficulty breathing and nonstop sneezing left him feeling miserable. The doctors told him to cope as best as he could and take medication, which wasn't much of an answer for a kid who was ridiculed by his classmates for his problems. He would interrupt class by sneezing 20-30 times in a row. The doctors recommended sinus surgery.
An occurrence during a family vacation was the last straw. After Dr. Cutsinger's eyes were swollen for three days straight, their vacation was cut short. His father, fortunately, had a friend who talked him into bringing his son to see a chiropractor.
The chiropractor changed my life. I wasn't being teased, and he helped my sinus condition. The result led my dad to become a chiropractor, and ultimately, myself."
Deciding on a Career in Chiropractic
The whole family started seeing a chiropractor. When his father was about halfway through chiropractic college, Dr. Cutsinger took a road trip to visit him. Speaking with his father about chiropractic was what made Dr. Cutsinger decide to enter the profession. He quit his job in the furniture industry and attended the prestigious Palmer College of Chiropractic, just like his father had.
After earning his Doctor of Chiropractic, Dr. Cutsinger had the privilege of being mentored by a chiropractor who went to school with B.J. Palmer, who is considered to be the developer of chiropractic. This mentor taught Dr. Cutsinger about the importance of addressing the source of the pain to correct the cause of a problem.
Additionally, Dr. Cutsinger uses the technique that made such an impact on his childhood, Toggle Recoil. "My chiropractor was always going from room to room, laughing and giving his patients a positive experience. I always felt better after my adjustments." He brings the same enjoyable, results-driven experience to our patients.
Enjoying a Busy Family Life in Franklin
Dr. Cutsinger and his wife, Vicki, have made Cutsinger Chiropractic the center of their lives. Vicki is our office manager who you'll see at the front desk or speak to when you call us. She's also a licensed massage therapist and has been a lifetime chiropractic patient. They have a daughter, Heather, two granddaughters and two great-grandchildren.
The memberships held by Dr. Cutsinger include the Tennessee Chiropractic Association. He is the past president of the Middle Tennessee Chiropractic Association and former president of the Franklin Civitan.
Schedule Your Visit Today
We accept insurance including Medicare. Contact our friendly team today to schedule your first appointment with us!
CONTACT US

Dr. Rick Cutsinger | (615) 778-4552